Public policies addressing health-related behaviours in Europe
PEN aims to evaluate policy measures to promote a healthy diet and physical activity of the population in terms of their content, implementation and effectiveness.
The project started on 1st February 2019 as part of the Joint Programming Initiative on a Healthy Diet for a Healthy Life (JPI HDHL). It will run for 3 years until end of January 2022.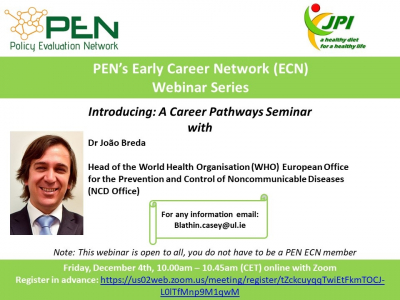 The Policy Evaluation Network Early Careers Network (PEN ECN) invites to their next webinar entitled:
 'A Career Pathways Seminar' with Dr Joao Breda, WHO, European NCD Office on December 4th at 10-10.45am (CET)
...
Read More
Report finds 
First-of-its-kind report compares Ireland's food policies to international standards
Experts recommend no-fry-zones, taxes on unhealthy foods to subsidise healthy options
Ireland is at international best practice in monitoring overweight and obesity prevalence in the population and occurrence rates for the main diet-related...
Read More
See all News