Public policies addressing health-related behaviours in Europe
PEN aims to evaluate policy measures to promote a healthy diet and physical activity of the population in terms of their content, implementation and effectiveness.
The project started on 1st February 2019 as part of the Joint Programming Initiative on a Healthy Diet for a Healthy Life (JPI HDHL). It will run for 3 years until end of January 2022.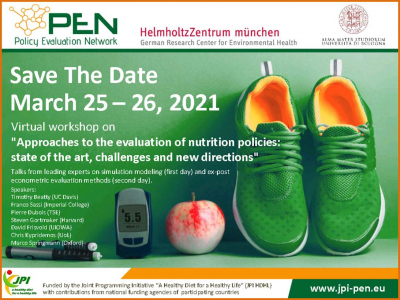 The PEN work package on Estimation and simulation of policy impact (WP3) organizes a webinar on:
Approaches to the evaluation of nutrition policies: state of the art, challenges and new directions
on March 25–26, 2021
...
Read More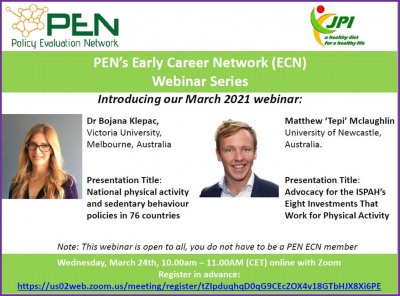 The PEN Early Careers Network (ECN) invites to its next webinar on Wednesday 24th March at 10:00-11:00 CET
National physical activity and sedentary behaviour policies in 76 countries - Dr Bojana Klepac, Victoria University, Melbourne, Australia)
Advocacy for the ISPAH's Eight Investments That Work for Physical Activity -  Matthe...
Read More
See all News